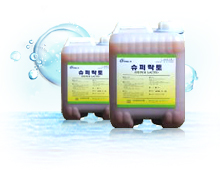 Attaches Lactobacillus fermentum, a powerful streptococcosis inhibitor, to the organs to prevent viruses and disease.
Restrains streptococcosis
Increases digestive efficiency
Enhances immunity
Package units: 1 L, 10 L
Ingredients

Lactobacillus fermentum - 1.0 × 1013CFU/L



Usage

Add up to 0.3~0.5% of total feed weight, and mix evenly.
( ※ ex. – Mix 3 ~ 5 L of additive with 1 ton of feed )



Benefits

Decreases pathogenic bacteria within feed, maintains balance of intestinal micro-organisms, stimulates digestion and growth
Antibiotic effects restrict antibiotic-resistant bacteria and stimulate growth of lactic-acid bacteria
Restricts pathogenic bacteria after settling in the organs



Caution

Samdaeo can be preserved for up to 6 months (please check expiration date)
After unpackaging, keep product in refrigerator/freezer.
Preserve at normal temperature and avoid direct sunlight.
Sediment may form as time passes, but this is lactic-acid bacteria; use normally.