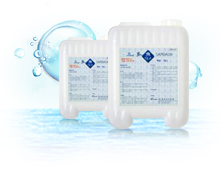 Mixed multi-functional nutritional additives for fish, using tangerines and natural micro-organisms
Stimulates growth and increases feed efficiency
Enhances immunity
Powerful antioxidant effects
Package unit: 10L
Ingredients

Water -------------- 96.0 % +
Crude Protein ( Dry sample content )------------- 0.15 % +
Crude Fat ( Dry sample content )------------- 0.005 %+
Crude Ash ( Dry sample content )---------- 0.3% +



Ingredients

Add up to 0.5~1.0% of total feed weight, and mix evenly.
( ※ ex. – Mix 5 ~ 10L of additive with 1 ton of feed )



Benefits

Helps digestion, increases feed efficiency and stimulates growth.
Strengthens the liver and decreases blood cholesterol
Powerful antioxidant effect prevents accumulation of peroxides



Caution

Samdaeo can be preserved for up to 6 months (please check expiration date)
After unpackaging, use product as soon as possible.
Preserve at normal temperature and avoid direct sunlight.
White sediment may form as time passes, but this is fermentation; use as normal.